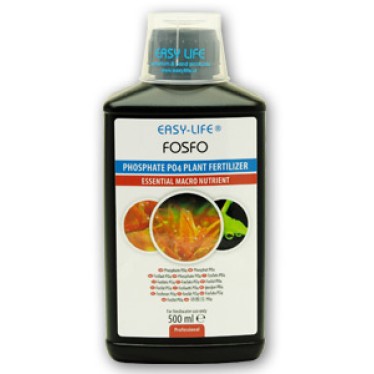 Fosfo
Extra phosphate for good plant growth for planted aquariums where there is a shortage of phosphate.
Easy to dose

Powerful phosphate source for aquariums with too little phosphate
Fosfo is available in various packaging quantities: 250 ml - 500 ml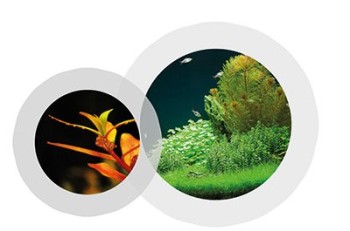 Essential macronutrients for planted aquariums
Easy-Life Nitro and Easy-Life Fosfo are used to compensate for a deficiency of nitrogen (N) and phosphorus (P), respectively. A deficiency of these macronutrients immediately leads to faltering growth or even to growth arrest.
A shortage of N and P can quickly arise in plant aquaria that contain very few fish or no fish at all, because very little or no fish feed is used. Together with fish excrement, fish feed is the most important source of N and P. A deficiency can also arise in aquaria with a very high density of plants. Nitro (which contains nitrate NO3) and Fosfo (which contains phosphate PO4) immediately compensate for these deficiencies.
The Redfield ratio is usually used to decide on the correct ratio between nitrate (NO3) and phosphate (PO4).
Weekly, after measuring the phosphate level
10 ml per 500 litres increases PO4 concentration by 0,1 mg/l
Normal levels of PO4 are between 0,1 - 0,5 mg/l
Let the dosage app help you!
Our new app is online! The dosing app, it helps you determine how much product to use based on your aquarium. This ensures that there is always the right amount in your aquarium. Which ensures that your fish and other aquatic animals have a healthy, clean and, above all, pleasant environment to live in. Are you also curious? Scan the QR code now to open the app!
Use the web app now!